Wesley Place's Artwork Collection
Learn more about the story, artists and inspiration behind the recently installed artworks at Wesley Place.
The Story Behind Wesley Place's New Artwork
Have you noticed the recently installed artworks across the Wesley Place recently ? Here's the story behind some of the sculptures and digital art at Wesley Place…
Conceptualised in 2017, the public art programme for Wesley Place was envisioned with a strong tie to Indigenous reconciliation and recognition of First & Second Peoples of the traditional site.
Learn more about the story, artists and inspiration behind these artworks.
Balit Dhan Balit Ngangjin Benches - ('Their Strength Our Strength')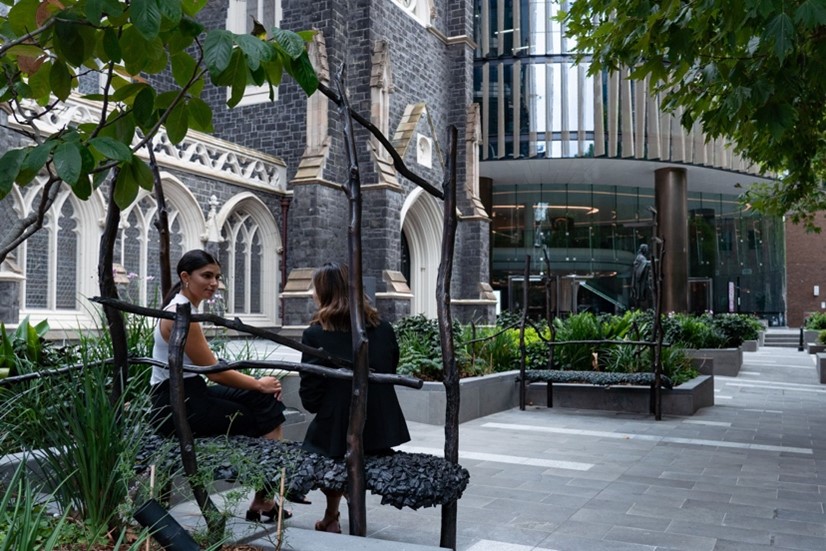 In front of Wesley Church, you will find two Indigenous bench sculptures, a perfect spot to sit and enjoy the tranquillity of the precinct. These were created to commemorate the founding of Caranderrk, an important reserve created by the Kulin Nations as a sanctuary for the Indigenous Australian community of Melbourne.
The limbs and elements of the benches represent branches of the Kulin Nation as well as charcoal and Victorian River reeds which are native to the site.
Artists: Collaboration piece between Maree Clarke and Trent Jansen, and fabricated by Axil
Owl of Minerva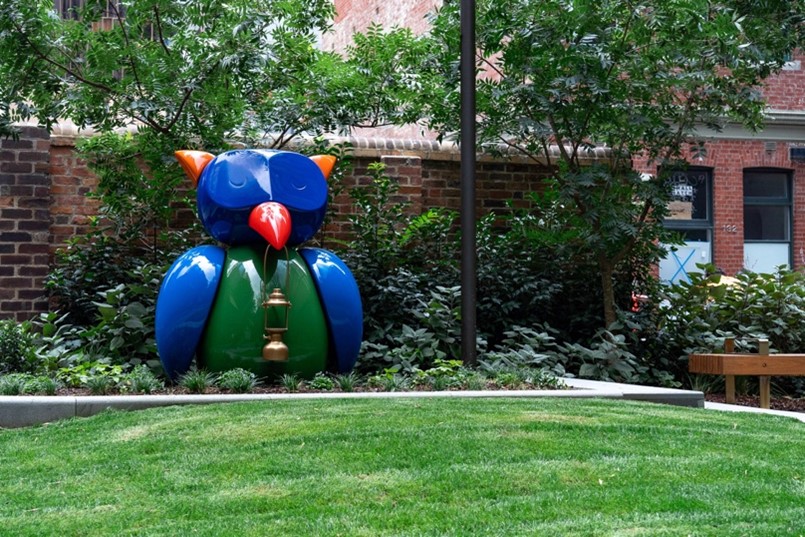 Standing over 1.5 meters high, the Owl of Minerva is a sculpture by renowned Melbourne artist Emily Floyd. The bold, multicoloured sculpture is a symbol of knowledge, wisdom and insight – a grounding presence for our community to enjoy at Wesley Place.

Located near the historic olive tree in the northern realm of the precinct, the installation is also intended to be fun and inviting for children.
Artist: Emily Floyd
Continuum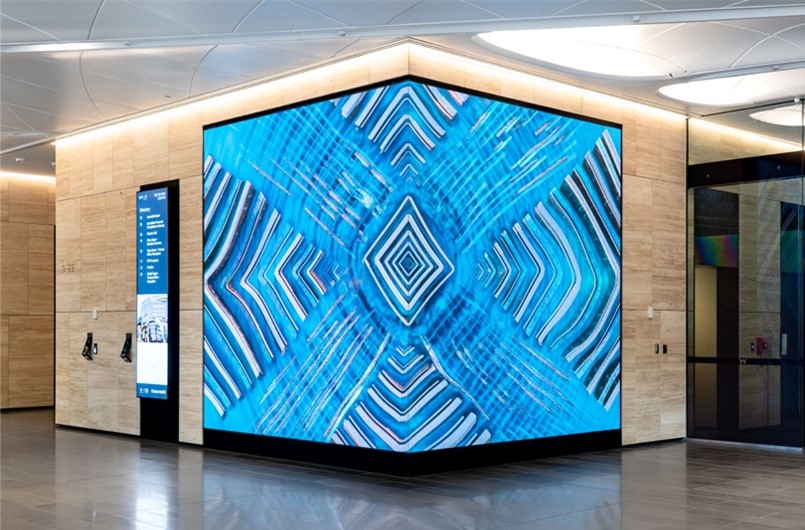 Displayed on the video screens in the 130 Lonsdale Street lobby, Continuum is a collaboration between mixed cultural First Peoples artist Lisa Waup, Western Australian digital artist Sam Price and Craft Victoria.
Celebrating shared connections of Country and community, the work details extended paths of continuum with a sequence of adjoining elements that represent the joining together of people and ideas.
Artists: Lisa Waup, Sam Price and Craft Victoria.
Next time you visit Wesley Place, take the time to discover our local artwork, and follow us on @wesleyplacemelb on Instagram for latest updates on the growing collection of artwork within the precinct.
Learn more about these fascinating artworks here.
To learn more about what's on and new at Wesley Place, sign up to our newsletter at: https://www.wesleyplace.com.au/sign-up